Buat masa ini, saya sbg mama hadif tsangat la keliru yg mana yg tbaek utk nya.
Heeeeeeee.. Kalau ikotkan incik suami, dia nya bkenan dgn quinny buzz.
Mmg x leh dinafikan quinny buzz tu lawa & nampak sporty tapi harganya auwwww sangat la mnarik. hehe. Tapi yg x bestnya, quinny buzz neh agak bulky aka sangat la berat. 12kg tu. rasanya i x larat lor nk mgangkatnya. huhu. nk dibandingkan dgn quinny zapp extra, agak murah sedikit serta ringan. Senang nk dibawak travel & x kacau space dlm keta tu. Camne tu. Buntu!! Rasanya dh x sabar utk memiliki sbuah stroller utk ank tsayang mama neh. heeeeeee mcm ler nk bwk hadif kuar jejalan dh kan. Ikot hati neh mmg x nak pun. Tapi bila dh ada stroller neh x tahu la kut2 berubah nati. kikiki.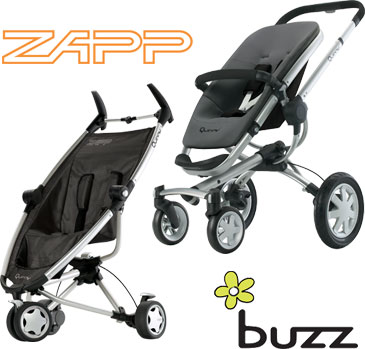 Apa pendapat anda...!!??
Takde ke yg baek hati nk sponsor sbiji utk hadif ;P heeeeeeeeee..... Gurau!!
Zapp Xtra
- The Zapp Xtra is suitable from birth to approx. 4 years
- Eye-catching sleek and attractive design.
- Highly manoeuvrable front wheel on the Zapp Xtra can rotate 360° and is lockable.
- The Zapp Xtra is the most compact buggy in the world when folded (70 x 25 x 29 cm - frame only).
- The Zapp Xtra is the ideal travel system when combined with the Maxi-Cosi Pebble or CabrioFix infant car seat (both sold separately).
- Comes complete with a sun canopy, raincover, shopping basket and adapters for attaching the maxi-cosi infant car seats.
- 3 recline positions when facing forward.
- 2 recline positions when rearward facing
QUINNY BUZZ
- Unique and revolutionary folding system (automatic unfolding)
- Very easy to fold and to unfold
- Highly manoeuvrable front swivel wheel, that can be locked
- Forward and rearward facing seat unit
- Height adjustable pushbar, adjustable foot- and backrest
- Backrest fully reclines
- Ideal travel system in combination with matching Maxi-Cosi car seat
- Including sun canopy and Buzz Box